Looks like this is actually happening (
via PRweb
):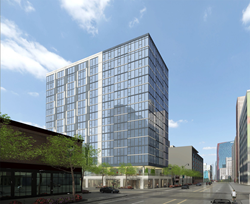 Development is getting underway at "30 East", a brand new, modern apartment community designed for students and millennials in the heart of Chicago's South Loop. Located at the corner of East Balbo and South Wabash Avenues, the site is just one block west of Grant Park and among seven colleges and universities comprising more than 26,000 students.
The new, 16-story, 150,000 SF building, designed by Chicago-based architect Solomon Cordwell Buenz, will feature 255 beds within 134 apartment units. It will be completed for August 2017 occupancy.
If you will recall we posted about this
potentially happening back in early December last year
.
More and more people are coming to the Sloop - like it or not...