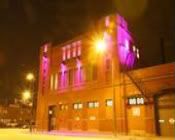 Most people are excited that the South Loop now has an 'upscale' movie theater, but according to an article we read today
it's not the only thing in the neighborhood that caters to an 'upscale' market
:
Local strip club aficionado Mr. Goodtimes, who asked we use his internet handle because he works in social services, pointed to Atlantis and clubs such as The Pink Monkey in Chicago's South Loop as proof the customer-service trend has come to Chicagoland. Mr. Goodtimes runs the web site Chicagostripclublist.com
That's right, our local strip club,
the Pink Monkey
(750 Clinton Ave.) has good customer service (as compared to other strip clubs we would assume). Another interesting fact that we read was that it's a BYOB (bring your own booze) establishment. That is highly unusual for a strip club.
We haven't been to the place, but have heard mixed reviews. The cover always seemed steep ($30), but I guess the BYOB thing could save you some money.
Anyway, if you're interested "Mr. Goodtimes" has a full on review of the club
at this link
.
(image from chicagostripclublist.com)