Renderings of new Lucas Museum (via Gizmodo)
When word came out that George Lucas chose Chicago and Museum Campus to house his new museum we figured it would be something unique and interesting. What was unveiled last night were both of those, but also will probably spark even more extreme adjectives.
Chicago Tribune architecture critic
Blair Kamin sums it up nicely
:
If you expected filmmaker George Lucas to give Chicago a low-slung museum that would slip quietly into the fiercely contested ground of the city's lakefront, I have news for you: You expected wrong.
A conceptual plan for the proposed Lucas Museum of Narrative Art, revealed Monday, sketches a far more ambitious vision from the "Star Wars" creator: A curvaceous, nearly windowless mountain of a building, topped by a glassy observation deck that would resemble a flying saucer.
Not surprisingly the big reveal has caused quite a stir across the interwebs. While Kamin seems relatively neutral at this stage, the website Gizmodo
paints a more positive view
on the concept while
Greg Hinz of Crain's hates it
. There will most likely be a lot of additional opinions flying around about the mountain with a flying saucer at the top (pun intended).
In my view, the structure makes a bold statement and again could continue to push Chicago into the forefront of progressive architecture. On the other hand, the ginormous structure seems amazingly obstructive and uninviting (if we can draw a conclusion from a couple of pictures).
Depending on your view of the project in general, these renderings probably give you more fuel to vehemently defend your position. Opponents will pan the renderings as providing another "mountain" between Chicago and its precious lakefront. Supporters will applaud the new "art-chitecture" that is being privately funded and improving the lakefront.
There are some thing we like. It incorporates a lot of public space and sweeping views of the city. It also references an amphitheater which seems promising. What these write-ups don't go into depth about is the landscaping and pedestrian bridge that is supposed to link this new area with Northerly Island. Hope that is not going away.
Anyway, should be interesting how this plays out.
What do you think? Is this new design a winner or a loser?
View of Museum looking Southwest (via Gizmodo)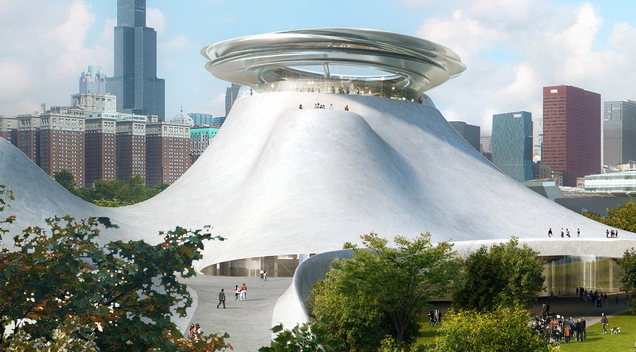 Closeup of entrance (via Gizmodo)
Oh and let the jokes begin (note that these aren't very good...but we tried):

Soldier Field Aliens Finally Convince Fans to Join Them in Chicago
Kids in Chicago Rejoice as Billionaire George Lucas Creates Amazing Sledding Hill
Skateboarders Salivate at Opportunity to Drop in to Lucas' New Skate Park on the Lake
(Hat tip: MP!)