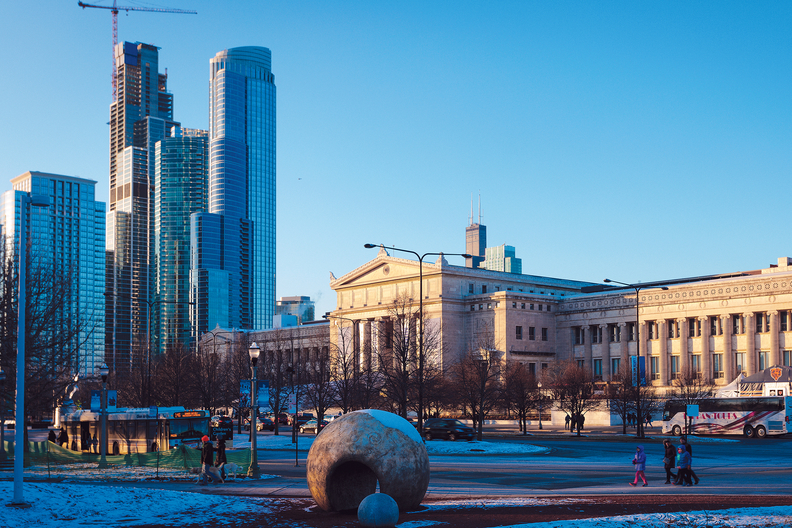 The South Loop and West Loop are often compared to each other for a variety of reasons - the main likely because both neighborhoods close proximity to the Loop.
As the 1970s dawned, Chicago civic leaders looked both west and south of the Loop and saw decay. To the south were long gashes in the city grid where railroads and rail junctions lay, and to the west was skid row.
Both sections figured into ambitious urban renewal plans: On the south, 57 acres of railroad land would become a "new town," '70s lingo for a master-planned, mostly residential community. On the west, a six-block area where the city had washed away flophouses and saloons would become Place Du Sable, a cluster of modern office towers as tall as 90 stories.

The first phase of the new town, Dearborn Park I, opened in 1979; Place Du Sable morphed into residential Presidential Towers, 49 stories tall, and opened in 1986. Each was a first step in a chain reaction. Four decades later, virtually every trace of 20th-century decay is gone from both neighborhoods, each one now home to tens of thousands of people, as well as restaurants, high-performing public schools, parks and shopping districts—much of which wasn't there at the start of the 21st century.

"They've both been amazing transformations," says Diana Turowski, who has lived in the South Loop for 20 years and works in the West Loop, "but they're turning out so different." The West Loop, she says, "is hipper," while the South Loop "is more establishment."

The South Loop is a neighborhood characterized by high-rises with dramatic views of Lake Michigan, Grant Park and the Michigan Avenue cliff wall, though there are also repurposed historical buildings and purpose-built low-rise housing. Access to the lakefront path, harbors, parks and museums is quick. The West Loop is red-brick warehouse buildings and sleek, newish low-rise condos and townhouses, with a small number of high-rises. Restaurants line Randolph and Halsted streets, and Google, McDonald's and other companies have recently built modern headquarters.