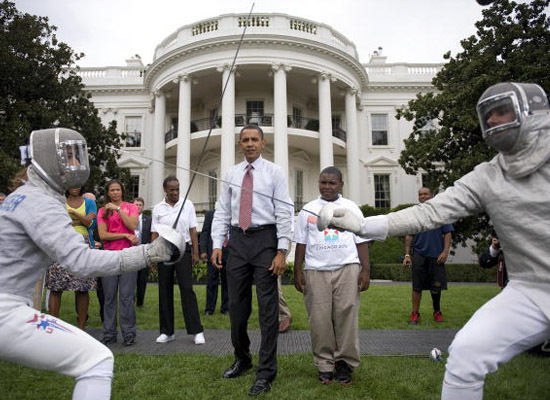 It's a sprint to the finish line as the decision on which city will win the right to host the 2016 Olympics games. With just over 15 days left in the race, Chicago's bid has been in the news far more then any other bid (thanks American media...) but from what we gather Chicago isn't sitting as comfortably as they were before.
Yesterday, the big news came from the White House where the Obama's welcomed the Chicago 2016 Olympic Bid Team, Mayor Daley and others to help promote the bid.
Although it helps with publicity, the major story was that president Obama confirmed that he was not heading to Copenhagen to woo IOC officials since he has more pressing issues like Healthcare
. Although it's hard to fault the president for this, it's pretty clear that Chicago's bid team is bummed. It's been repetitively stated that his presence would be an immense help to the bid. Richard Pound, a Canadian IOC memeber, went a step further stating his '
absence would be noted
'.
The Chicago Tribune has a
nice piece editorial piece on the Obama/Olympic debate
:
Official word from the White House is that First Lady Michelle Obama will lead the U.S. delegation to Copenhagen next month to support Chicago's bid to host the 2016 Olympics. The president himself is busy with health-care reform and can't commit "at this time," according to his staff.

Busy with health-care reform? That's the excuse? Is he afraid that House Republicans would launch a surprise attack on Medicare on Oct. 2 while he's in Copenhagen?

That sounds pretty flimsy. We suspect that Obama is being cautious about putting his prestige on the line and coming home empty-handed. It would be tough to lose to a guy whose nickname is Lula (Brazilian President Luis Ignacio Lula da Silva will represent Rio.).
In other Olympic 'financial' news, Media Mogul Rupert Murdoch gave Chicago's bid
a slight boost when he said his company News Corp. (home of Fox and other outlets), probably wouldn't bid for the games since it doesn't make business sense
. However:
Murdoch pointed out what would make business sense for both companies: holding the summer games in Chicago. If the Windy City gets the spot, expect the executives to firm up their answers quickly, and come back saying "yes." That would make a good advertising opportunity for whoever gets those broadcast rights.
So take these things for what they're worth. We really don't know what to think. We've been saying President Obama is going to win it if he is there. If he's not, we don't think Chicago's going to win.
Finally, according to the
betting odds Chicago is still the favorite
. If there is one thing we're confident in it's a bookie...they're always right!