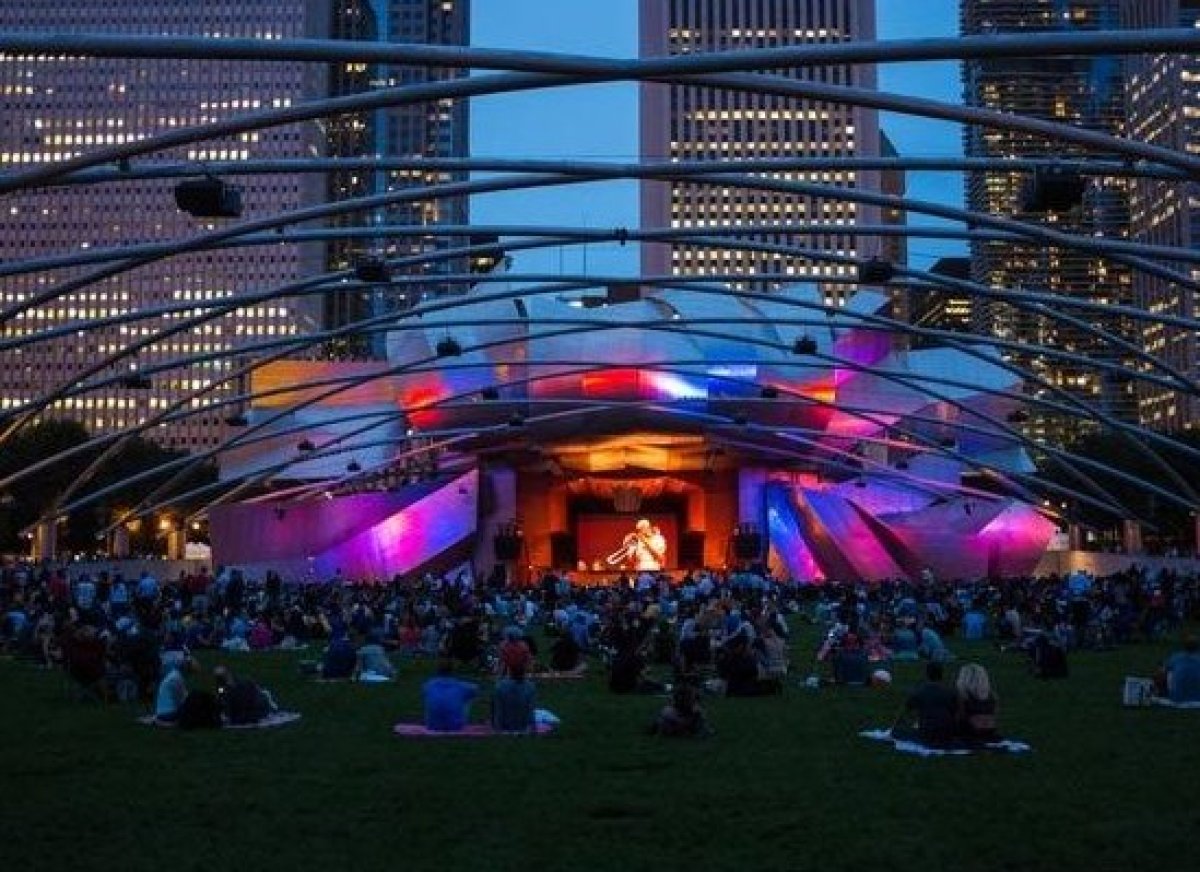 Ah, summer in Chicago - a lovely time (a boy can dream, right)! What's even better? A lovely Chicago summer night plus some amazing music.
The good peeps
at Thrillist recently listed out
all of the outdoor concerts (currently) slated for our summer. It doesn't include
Lola
or Taste of
Chicago Music Lineup
, but it does include venues like Wrigley Field, Ravina and such.
For us Sloopsters, we've simplified down to venues in the Sloop (or very very close).
MAY
MAY 27 Fri

Beyoncé The Formation World Tour - Soldier Field

MAY 28 Sat

Beyoncé The Formation World Tour - Soldier Field

JUNE
JUNE 2 Thurs

Chris Stapleton Kentucky comes to Chicago - FirstMerit Bank Pavilion

JUNE 3 Fri

Taste of Chaos Tour w/ Dashboard Confessional, Taking - FirstMerit Bank Pavilion

JUNE 6 Mon

Blonde Redhead w/ Ryley Walker - Millennium Park

BEST FREE SHOW:

JUNE 9 Thurs Lee Fields & the Expressions - Millennium Park

JUNE 11 Sat

Steely Dan w/ Steve Winwood - FirstMerit Bank Pavilion

JUNE 13 Mon

Rodrigo Amarante - Millennium Park

JUNE 15 Wed

Grant Park Orchestra - Millennium Park

JUNE 16 Thurs

Nneka Nigerian - Millennium Park

JUNE 17 Fri

Grant Park Orchestra - Millennium Park

JUNE 18 Sat

Grant Park Orchestra - Millennium Park

BEST CHANCE FOR A CHUCKLE:

JUNE 19 Sun

Flight of the Conchords - Millennium Park

JUNE 20 Mon

DJ Spooky's Rebirth of a Nation - Millennium Park

JUNE 22 Wed

Storm Large w/ Grant Park Orchestra - Millennium Park

JUNE 23 Thurs

Maceo Parker Funky! - Millennium Park

JUNE 23 Thurs

Bad Company & Joe Walsh - FirstMerit Bank Pavilion

JUNE 24 Fri

Grant Park Orchestra - Millennium Park

JUNE 25 Sat

Grant Park Orchestra - Millennium Park

JUNE 27 Mon

Eddie Palmieri Salsa Orchestra - Millennium Park

JUNE 29 Wed

Juho Pohjonen w/ Grant Park Orchestra - Millennium Park
JULY
MOST INTERESTING STADIUM SHOW:

JULY 1 Fri

Guns N' Roses - Soldier Field

JULY 1 Fri

Grant Park Orchestra - Millennium Park

JULY 2 Sat

Grant Park Orchestra - Millennium Park

JULY 2 Sat

Modest Mouse w/ Brand New - FirstMerit Bank Pavilion

JULY 4 Mon

National Youth Choir of Scotland w/ Grant Park Orchestra - Millennium Park

JULY 6 Wed

Grant Park Orchestra (live soundtrack to silent film City Lights) - Millennium Park

JULY 8 Fri

311 w/ Matisyahu - FirstMerit Bank Pavilion

JULY 8 Fri

Grant Park Orchestra - Millennium Park

JULY 9 Sat

Grant Park Orchestra - Millennium Park

JULY 11 Mon

Femi Kuti + the Positive Force w/ ProbCause - Millennium Park

JULY 13 Wed

Rachel Barton Pine w/ Grant Park Orchestra - Millennium Park

JULY 14 Thurs

Azymuth w/ Sidewalk Chalk - Millennium Park

JULY 15 Fri

Grant Park Orchestra - Millennium Park

JULY 16 Sat

Grant Park Orchestra - Millennium Park

JULY 16 Sat

Gregg Allman w/ Peter Frampton, Blackberry Smoke, and Eddy Clearwater - FirstMerit Bank Pavilion

JULY 17 Sun

Sublime w/ Rome, Dirty Heads, and Tribal Seeds - FirstMerit Bank Pavilion

JULY 18 Mon

King Sunny Adé - Millennium Park

JULY 19 Tues

Heart w/ Joan Jett & the Blackhearts and Cheap Trick - FirstMerit Bank Pavilion
BEST CHANCE TO ROCK:

JULY 20 Wed

AWOLNATION w/ Death From Above 1979 - FirstMerit Bank Pavilion

JULY 20 Wed

Grant Park Orchestra - Millennium Park

JULY 21 Thurs

Bryan Adams - FirstMerit Bank Pavilion

JULY 21 Thurs

Heritage Blues Orchestra Millennium Park

JULY 22 Fri

Marin Alsop w/ Grant Park Orchestra - Millennium Park

JULY 23 Sat

Marin Alsop w/ Grant Park Orchestra - Millennium Park

JULY 23 Sat

Coldplay A Head Full of Dreams Tour - Soldier Field

JULY 24 Sun

Coldplay A Head Full of Dreams Tour - Soldier Field

JULY 24 Sun

Grant Park Orchestra - Columbus Park Refectory

JULY 25 Mon

The Jones Family Singers - Millennium Park

JULY 26 Tues

Goo Goo Dolls w/ Collective Soul - FirstMerit Bank Pavilion

JULY 27 Wed

Grant Park Orchestra - Millennium Park

JULY 31 Sun

Dirk Quinn Band - Navy Pier
AUGUST
AUG 1 Mon

José González w/ Tall Heights - Millennium Park

AUG 3 Wed

Grant Park Orchestra - Millennium Park

AUG 4 Thurs

Sinkane - Millennium Park

AUG 5 Fri

Grant Park Orchestra - Millennium Park

AUG 6 Sat

Grant Park Orchestra - Millennium Park

AUG 6 Sat

Ray LaMontagne - FirstMerit Bank Pavilion

AUG 9 Tues

Josh Groban w/ Sarah McLachlan - FirstMerit Bank Pavilion

AUG 10 Wed

Christian Poltéra w/ Grant Park Orchestra - Millennium Park

AUG 11 Thurs

Mbongwana Star - Millennium Park

AUG 12 Fri

Kirill Gerstein w/ Grant Park Orchestra - Millennium Park

AUG 13 Sat

Kirill Gerstein w/ Grant Park Orchestra - Millennium Park

AUG 16 Tues

Carnival of Madness w/ Shinedown, Halestorm, and Black Stone Cherry - FirstMerit Bank Pavilion

AUG 17 Wed

Christian Tetzlaff w/ Grant Park Orchestra - Millennium Park

AUG 18 Thurs

Elephant Revival The quintet - Millennium Park

AUG 19 Fri

Grant Park Orchestra - Millennium Park

AUG 20 Sat

Grant Park Orchestra - Millennium Park

MOST ANTICIPATED

:

AUG 21 Sun

Wilco - Millennium Park

AUG 24 Wed

Counting Crows & Rob Thomas - FirstMerit Bank Pavilion

AUG 25 Thurs

Homme - Millennium Park
SEPTEMBER
SEPT 7 Wed

Andrew Bird - Millennium Park