If you didn't read yesterday,
a prominent piece of South Loop land was auctioned off recently
.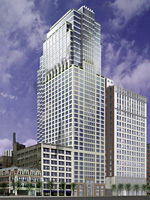 1000 S. Michigan was supposed to be a
glamorous
towering residential building, but the recession hit and the real estate
bubble
popped and here we are:
Investors looking for signs that South Loop land prices have stabilized didn't find one at an auction Tuesday of a prominent South Michigan Avenue development site overlooking along Grant Park.

An affiliate of First American Bank prevailed in the auction of the
vacant property at 1000 S. Michigan Ave., with a winning bid of $11.3 million, less than half the $25.3 million the Elk Grove Village based lender is owed on the site, says auctioneer Rick Levin, whose firm conducted the sale.
Honestly, we're not very surprised. Regardless, it's not very encouraging.