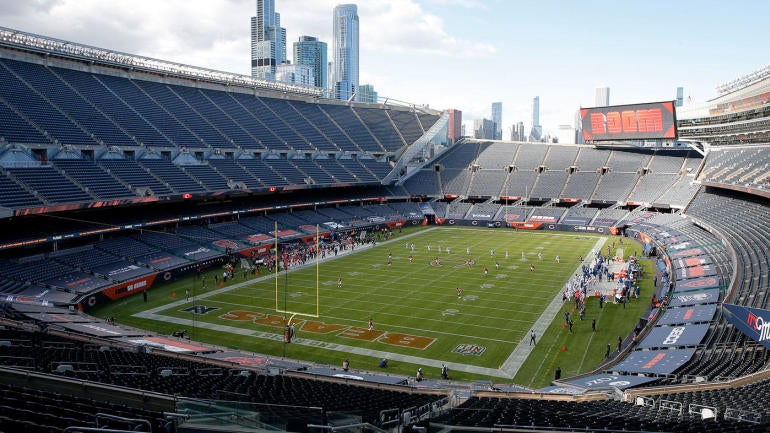 Some head scratching news came out last week about our favorite NFL neighbor (via CBSsports):
The Chicago Bears have been playing at Soldier Field since 1971, but that's something that could be changing in the near future. The Bears are apparently thinking about relocating to Arlington Heights, which is a suburb that sits roughly 30 miles outside of Chicago.

For the Bears, the allure of Arlington Heights comes from the fact that the city is about to have 326 acres available where a new stadium could be built. The land is currently occupied by the Arlington Park race track, but that building is likely going to be sold in the coming months with the expectation that the new buyer is going to tear it down and re-develop the site.
It seems crazy to think that the Chicago Bears are seriously considering leaving the iconic Soldier Field for a new stadium in ARLINGTON!
One of the often cited knocks on Soldier field is capacity:
Soldier Field opened in 1924 and hasn't undergone any sort of major renovation since 2003. The stadium only seats 61,500 and due to spacial constraints, it's unlikely that number will ever be expanded by much, which might be one reason why the Bears eventually make the move to Arlington Heights.
According to wikipedia, Soldier Field is the smallest stadium in the NFL. Most are in the range of 70,000 - 80,000 seating capacity. And as most things in the world - but especially in professional sports - money talks.
That said, the conventional wisdom we've heard and read about makes it seem as if this is a negotiation tactic. For reference, when the Cubs were trying to get the city to allow for some renovations at Wrigley Field, there were reports that the ownership was considering moving to Rosemont! Sure there are some pros to moving to the burbs, but one of the best assets either of these teams have are their stadium and location in Chicago.
A couple things to remember. First, Lori Lightfoot recently addressed the rumor and brought up a couple things:
"I've seen a couple of reports. But a couple of data points that I think you should be aware of are the Bears have a lease with Soldier Field until 2033 and the NFL doesn't let any teams break their leases," Lightfoot said.

"I was just on a call with a senior leadership in the last two weeks. So there are things that they'd like to see differently at Soldier Field, and we want to do whatever we can to accommodate it," Lightfoot said. "It's a great iconic site, but it's a challenging site."



Lightfoot was also asked if she believes the Bears are revisiting the idea of potentially relocating as leverage to boost capacity in Soldier Field.



"I think it's incumbent upon us as a city to step up and look at ways in which we can make sure that Bears fans, but also the Bears as an organization, have the best opportunities to maximize the fan experience and of course, maximize revenues. So we're going to keep those conversations going," Lightfoot said.
Interesting that Lightfoot struck a cordial tone on the topic. She made it seem like it's on the city to make it work for the Bears organization - which isn't exactly what we expected her to say out of the gate.
One side note that seems related to this story is the gigantic One Central development that is planned just west of Soldier Field. That development seems hard to fathom in the current world with Covid-19, but if you think about when the Bears contract is up (2033) - could that development vision align with the city's need to "maximize the fan experience" for Bears fans and the organization?
It still seems like a long shot that One Central will happen, but maybe if it's a way to keep the Bears at Soldier Field it might get a shot in the arm? Time will tell.
Anyone have thoughts on this one?