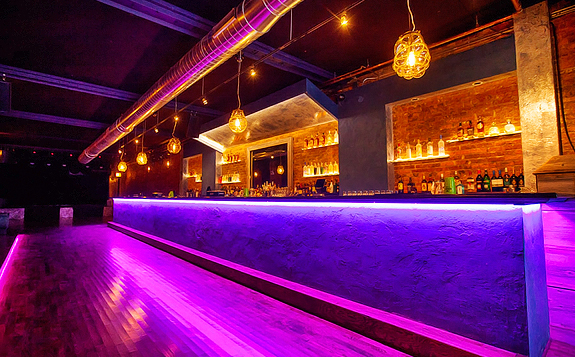 LED lit bar at Riff Music Lounge - 2239 S. Michigan (via Urban Daddy)
Much has been made about
the future "entertainment district" that the city wants to come to Motor Row
. So far it's been mostly talk. Yes we know about the impending
Broad Shoulders Brewery
. Yes we know about the
plans for a event center and hotel
. And yes we know about
the new green line L stop the city
is building at Cermak and State. But until any of those things open or really progress, Motor Row will continue to be an enigma.
Well maybe not.
A reader tipped us to a new music venue that is opening up called
Riff Music Lounge
(2239 S. Michigan). According to
Urban Daddy
:
Sometimes you want to dance.
Sometimes you need to dance.
And sometimes... well, sometimes you just need to watch other people need to dance.
So meet Riff Music Lounge, a South Loop recording studio repurposed for your getting-down and vodka-and-Red-Bull-ing needs, soft-open next weekend (weekend of Nov 22nd).
Pressure Point Studios used to use this as a recording studio for artists like Justin Timberlake, J. Lo and Mariah Carey, but now the studio's entirely upstairs. Still, don't be surprised if you notice the occasional drop-in by a visiting recording-industry dignitary.
Interesting. We actually recently drove by the spot and did notice some activity in the area. So it makes sense to hear about this opening.
While dancing might not appeal to the core demographic in the South Loop (maybe it does?), it's nice to have variety in the neighborhood. Riff joins two other intimate music venues in the broader Motor Row area.
The Shrine
(2109 S. Wabash), which mostly books hip-hop and rap music, and
Reggie's
(2109 S. State), which books a wide variety of live acts, are pretty popular despite their relatively desolate surroundings.
Maybe this Motor Row Entertainment District is real...
Anyway, welcome to the neighborhood
Riff Music Lounge
. Oh and if you're interested they're officially opening on Wednesday, November 27th with DJ Trentino:
(Hat tip: RZ!)